Two determined vets have successfully completed an exhausting charity challenge by running 10 marathons in 10 consecutive days.
Carolyne Crowe and Brian Faulkner ended their Ten2London challenge when they crossed the finish line of the London Marathon last weekend (23 April) in a time of exactly five hours.
Carolyne, from Gloucestershire and fellow vet Brian, from Suffolk, started their gruelling 260 mile journey in Wahilgoe, Northern Scotland on 14 April. Travelling across the country, they faced punishing terrains from Land's End to Orkney and from Galway in Ireland to Wales.
Target passed
The pair have exceeded their £10,000 charity target by so far raising almost £15,000 for working horse and donkey charity Brooke, and the money is still coming in.
Mrs Crowe said: "We did it – ten marathons in ten days, and we're still in great spirits.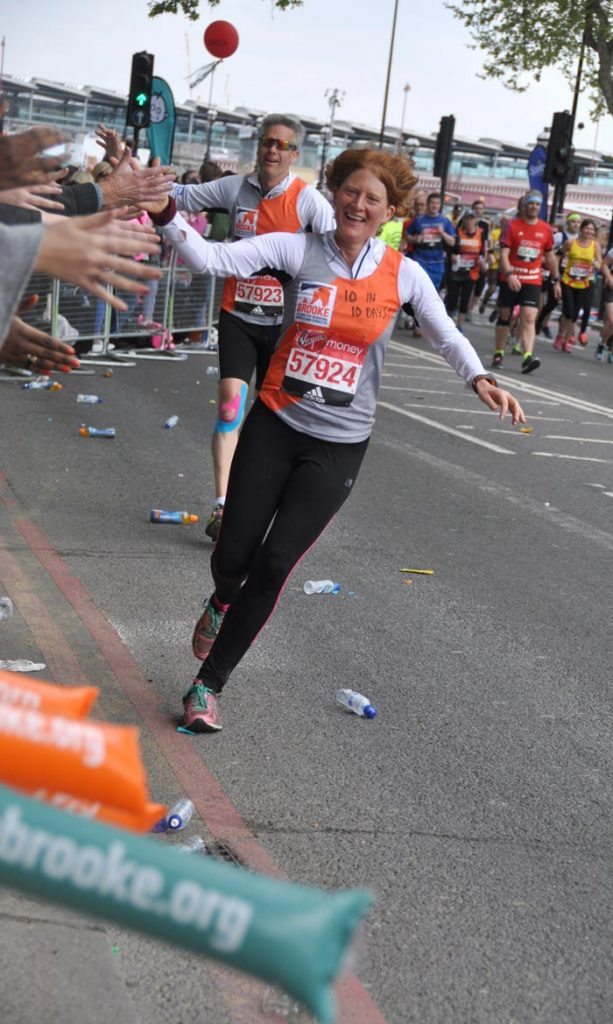 "It's amazing what you can achieve when you dare to dream – it's been an amazing ten days for a fantastic cause."
Tough training
Speaking about their gruelling training schedule, Mr Faulkner said: "Carolyne did twice as much training as I did. She spoke to Greg Whyte who coached Eddie Izzard for his runs, and would feedback what he'd said.
"I remember she told me we had to do a week of half-marathons in March, and then we had to get comfortable doing back-to-back marathons every weekend, and I thought 'yeah, right!' But do you know what? That is what had to happen."
They both suffered from injuries over the ten days, with Mrs Crowe's knees becoming increasingly painful, and Mr Faulkner struggling with his shins and legs.
The pair's marathon dates and locations were as follows:
14 April – John O'Groats
15 April – Orkney
16 April – Loch Ness
17 April – Edinburgh
18 April – Cookstown, County Tyrone
19 April – Galway
20 April – Gloucestershire
21 April – Lands End
22 April – Thames
23 April – London Marathon
You can still sponsor them at www.ten2london.co.uk