More than 80 newly qualified vets attended a dermatology and cardiology conference organised by CVS at the at University of Surrey School of Veterinary Medicine.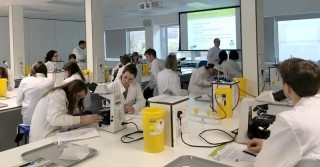 Those in attendance were in the first year of CVS' graduate programme, which, the company claimed, is now the most extensive of its type in the market.
Dermatology sessions were led by Stephen Shaw, an RCVS-recognised specialist in veterinary dermatology, and Sarah Warren, while the cardiology programme was led by Luca Ferasin, a European and RCVS-recognised specialist in veterinary cardiology.
State-of-the-art surroundings
Charlotte Bray, CVS' veterinary graduate programme manager, said: "Dermatology and cardiology cases are seen very regularly in practice and can be challenging to diagnose and treat. For this reason, we felt they would be ideal topics to cover at our first year graduate conference.
"The state-of-the-art surroundings of the University of Surrey provided a great backdrop and the feedback I've received confirms delegates found the opportunity to learn from some of the UK's leading experts invaluable.
"They also enjoyed the opportunity to spend time together as a group, sharing their experiences of their first months in practice."