Standing eight inches tall and weighing 800 grams, ZSL London Zoo's tiny new arrival is already making a big impression.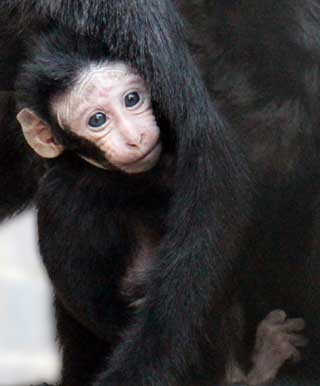 The three-week-old Sulawesi crested macaque was born to 17-year-old Winoo after a 174-day-long gestation period.
Latest addition
Expected to triple its weight before autumn, the yet to be named infant is being nursed by Winoo for another six months before gradually moving to a diet of fruit, leaves and insects.
Fathered by dominant male Gaston, the infant is the latest addition to the eight-strong troop of Sulawesi crested macaques at the zoo.
Close bonds
Zookeeper Paul Kybett said: "The team at ZSL London Zoo are delighted by the arrival of a new Sulawesi crested macaque and pleased to confirm mum and baby are both doing well.
"These are sociable monkeys that form close bonds with each other and the group are all showing a keen interest in the new arrival.
"The other youngsters in the group will be delighted to have a new playmate, but, for now, experienced mum Winoo will be keeping a close eye on her baby."
An important addition to the European breeding programme for endangered species, Sulawesi crested macaques are under constant threat in the wild from habitat loss and poaching.