Experts from the 5th European Mastitis Panel have claimed the control of infectious pressure of mastitis-causing pathogens is key to improving dairy herd productivity.
Experts have claimed that the control of infectious pressure of mastitis-causing pathogens is key to improving dairy herd productivity.
The claim came from the 5th European Mastitis Panel meeting, which took place this week in Bristol.
Attending the panel were a list of 15 experts from 7 European countries – including Julie Macleod of Dairy Co., vet Chris Hudson of the University of Nottingham and Theo Lam, a professor at Utrect University – who participated in a two-day workshop that involved visits to typical regional farms and an exchange of expertise on the latest approaches to mastitis control throughout Europe.
Following the vets' gaining of a comprehensive overview of the local organisation of milk production and animal health management, which involved trips to Robert Wiseman Dairies in Bridgewater and cheese and butter producer Brue Valley Farm in Somerset, Mr Hudson, member of a mastitis working group at the University of Nottingham, presented the group's work on the development and national roll-out of a mastitis control plan.
Their plan involved a structured, herd-level approach to mastitis control, and was initially tested using a randomised controlled trial on 52 UK herds, where there was found to be a significant benefit for udder health.
The plan has since been put in place on almost 1,000 UK dairy farms, and early indications are that "similar improvements have resulted," said Mr Hudson.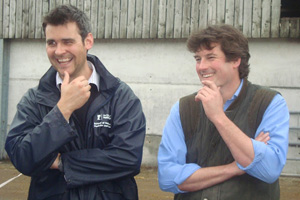 Prof Lam of Utrecht University in the Netherlands followed Mr Hudson by presenting the university's Dutch Udder Health research results, where it was found that post milking teat disinfection and good nutrition have the best economic returns on improving udder health.
Despite these findings, Sarne de Vliegher from Gent Univeristy in Belgium insisted that the best tool to controlling mastitis is the understanding of the epidemiology of different coagulase negative staphylococci species, as this will give experts a better insight into the prevention of the pathogen.
According to DEFRA statistics, there are 1.8 million dairy cows in the UK on 15,700 farms, while milk output is 7,300 kg per cow per year.