Burgess Pet Care will be calling on veterinary practices to sign up to its Rabbit Awareness Week (RAW) campaign at BSAVA Congress.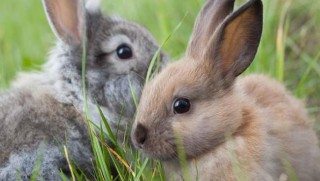 The Burgess team and partners – including Wood Green head of small animal welfare Marie Pavaday-Pillay and Rae Todd from the Rabbit Welfare Association and Fund – will be at the show asking vets to get involved with RAW, which runs from 18 to 26 June.
10th anniversary
Burgess small animal brand manager Rehana Kausar said: "Up to 57% of rabbits live alone and we believe this number is still too high.
"We are urging vets to support us in getting owners to pair up their bunnies with rehomed ones from rescue centres. Last year, we saw more than 3,000 vets pledge support for RAW, but we'd like to top this, this year.
"Celebrating its 10th anniversary in 2016 the RAW campaign has not only put rabbit welfare high on the agenda, but has helped hundreds of practices improve their services to rabbit owners and, in turn, increase footfall and turnover.
"Some practices have seen as much as a 60% increase in rabbit-owning clients".
Free T-shirts
As well as being able to pick up a "Don't Forget the Hay" T-shirt – highlighting the multiple benefits of a hay-rich diet for small animals – visitors to BSAVA Congress will also get the chance to learn more about Burgess' Excel feeding plan and test drive its innovative Excel rabbit food range.
The Burgess team will also be presenting its Nature's Blend food, which is designed to mimic a rabbit's natural foraged diet.
To find out more, visit www.rabbitawareness.co.uk or www.burgesspetcare.com