Outraged staff at a cat rescue centre are appealing for help in identifying the "sick yobs" who coloured in the white patches on a pair of young kittens.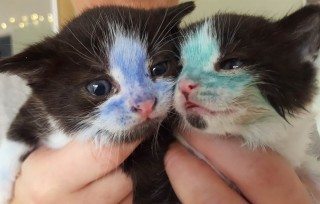 The black and white animals, which had been defaced with blue and green permanent marker pens, were found by police and taken to Bradford Cat Watch Rescue Centre (BCWR) in West Yorkshire.
From there they were taken to vets as staff were unsure about the level of risk posed by the possibly toxic ink.
Poorly pen pals
The kittens are believed to be only four to five weeks old and BCWR spokesman Katie Lloyd said they were already "very poorly" when they came in.
She said she was "utterly shocked and disgusted" at the action of the "sick yobs" who could have done such a thing to defenceless young animals.
The kittens – named in the national press as "Smurf and Shrek" – are being carefully bathed to safely and systematically remove the ink following advice from the Veterinary Poisons Information Service.
An appeal has been made for donations to help care for the kittens and other animals at the centre. Visit bcwr-kittens.co.uk for details.