The Royal Veterinary College has unveiled the UK's first specialised equine CT scanner.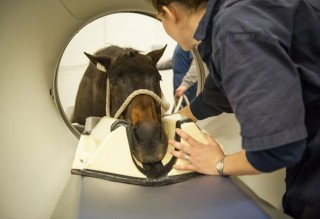 Based at the RVC Equine Hospital in Hertfordshire, the scanner is 10cm wider than the standard 75cm, impacting greatly on how much of a horse can be examined.
Most of a horse's neck will now be able to fit into the scanner, enabling RVC vets and students to enhance their diagnostic ability, improve their understanding of equine neck problems and develop treatment methods.
Imaging innovation
Renate Weller, professor in comparative imaging and biomechanics at the RVC, said: "We are excited to introduce this innovation in equine imaging.
"This is a great opportunity to improve our diagnostic ability for neck problems in the horse and we expect our understanding of will improve tremendously."
The hospital was the first equine hospital to install a CT scanner in 2003 and it has since performed more than 2,000 head, foot and neck scans.