Koko still going strong after celebrating her 40th birthday at Whipsnade Zoo.
Koko the chimpanzee is officially the oldest swinger in town after celebrating her 40th birthday at Whipsnade Zoo last week.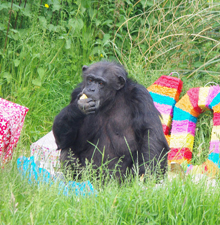 Hitting the big "four zero" can cause a crisis in humans, but for Koko it was the perfect excuse to party as keepers packed presents and piñatas full of her favourite treats, including little gem lettuce, tomatoes and yoghurt.
Koko – which means monkey face in Spanish – was born at Dudley Zoo in 1973 and arrived at Whipsnade in 2006.
She shares her island home with Nicky, Phil, Grant, Bonny and Elvis, who all helped celebrate her special day. Keeper Kathy Doherty said: "Everyone at Whipsnade has a soft spot for Koko as she has such a loveable and gentle personality.
"Forty is a really great age for a chimp and we're thrilled she's reached this milestone birthday.
"Koko was handreared as a youngster and is particularly fascinated by people – she can often be spotted pulling funny faces at visitors. When she's not doing that, she enjoys sunbathing on her favourite spot which we've nicknamed Koko's log because she spends so much of her time there.
"Being the oldest chimpanzee, she does like to have a bit of quiet time on her own occasionally, but Koko still loves investigating new things. Giving her gifts like stuffed presents and piñatas is a great way of keeping her stimulated stimulated and encouraging her to be inquisitive."