A dehydrated chicken was rescued after wandering into a gaming arcade and getting stuck in a toilet.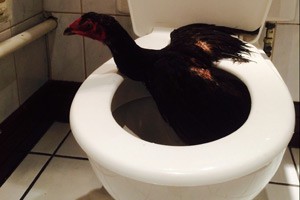 The bird was found in a toilet at Cashino in Morden, Surrey and was so weak it could not fly out.
RSPCA inspector Lynn Marshall said: "This chicken was clearly in need of a bit of luck so managed to make her way to a casino."
"It wasn't a win she was after though, more a rescue, as she was in such a terrible state. She'd clearly had to fend for herself for quite a while.
"It is difficult to know for sure where she may have come from. She may have escaped from a home and ended up straying but the area where she was found is pretty built-up – an unlikely spot to keep a pet chicken.
"It is also possible of course that someone may have dumped her there."
Inspectors named the bird Armitage, after the toilet she was found in.
Armitage was taken to a boarding facility and has made a full recovery, despite initially being underweight.