The European Commission has approved a once-monthly chewable flea and tick medication for dogs created by pharmaceutical company Zoetis.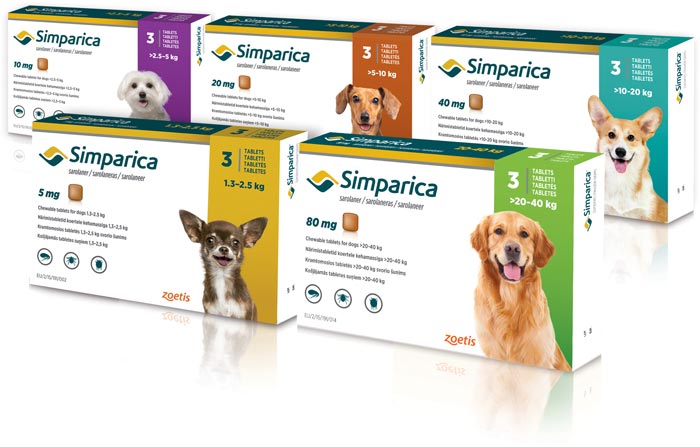 The approval of Simparica means vets have more choice when it comes to treating ticks, fleas and sarcoptic mange in dogs aged eight weeks and over, says the manufacturer.
The decision follows a positive opinion adopted by the Committee for Medicinal Products for Veterinary Use.
Powerful and palatable
Veterinary specialist Balázs Capári, who participated in clinical trials of Simparica, said: "In my experience, Simparica has been shown to rapidly kill fleas and ticks with efficacy that persists for five weeks.
"Dog owners participating in the trials also reported Simparica is very palatable; the chewable tablet was easily taken by their dogs. The convenience of a once-monthly chewable tablet helps increase compliance with treatment, giving veterinarians and dog owners confidence in continuous protection."
Zoetis expects to launch Simparica in the EU in the first quarter of 2016. It will be available in 5mg, 10mg, 20mg, 40mg and 80mg dosage strengths.
Catherine Knupp, Zoetis' executive vice-president and president of research and development, said: "At Zoetis, we focus our innovation on the most pressing needs of veterinarians and that is what guided us to develop a new oral choice to provide dogs with persistent protection from fleas and ticks and treatment of mites that cause sarcoptic mange."
New ectoparasiticide
The active substance of Simparica is sarolaner, a new ectoparasiticide in the isoxazoline class, developed by Zoetis scientists.
The marketing authorisation for Simparica was based on the results of field studies in seven countries, involving more than 800 dogs of various breeds from at least eight weeks of age and 1.3kg in weight.
Simparica was shown to provide efficacy for at least five weeks against ticks and fleas. It demonstrated a rapid onset of action, killing fleas before they had chance to lay eggs, and can be used as part of a treatment strategy for the control of flea allergy dermatitis. It proved effective in treating sarcoptic mange, a highly contagious skin disease in dogs.
In studies, Simparica killed all four species of tick dominant in Europe (Dermacentor reticulatus, Ixodes hexagonus, Ixodes ricinus and Rhipicephalus sanguineus) and flea species that most frequently infect dogs in European countries (Ctenocephalides felis and Ctenocephalides canis). Simparica was well tolerated, with no adverse events reported at the therapeutic dose.