A mischievous moggie found himself at the PDSA PetAid hospital in Sheffield after he developed a special interest in his owner's television – resulting in him swallowing the box's six-inch aerial.
A mischievous feline needed emergency surgery after swallowing a six-inch metal TV antenna.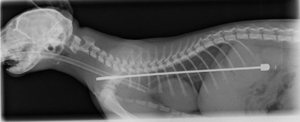 Vets at PDSA's Sheffield PetAid hospital were stunned when x-rays revealed that Alphie – a young tabby kitten – had the digital aerial lodged in his oesophagus and stomach, an injury that would have proved fatal if not removed.
Liz Airey, senior veterinary surgeon at the hospital, said it was one of the most unusual cases she had come across.
 
"It's very rare," she said. "It's very unusual for such a solid object to be swallowed in this way.
 

"It seems as though the kitten had been playing with the antenna and inadvertently swallowed it, which is a very unusual accident.
 
"It's fortunate he didn't swallow it the other way round as the sharp broken end could have punctured his stomach and caused damage to his intestines, which could have been fatal."
Owner Vanessa Waite said she had noticed her pet had a special interest in her television set, often being mesmerised by the moving pictures on the screen.
"One night I heard a loud bang and went upstairs to investigate," she said, "but I assumed Alphie had fallen off the windowsill. He seemed okay and was just hiding under the bed.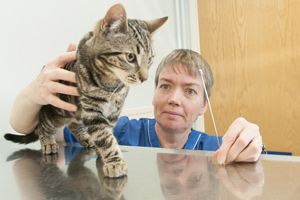 "However, during the night he was being sick so the next morning I took him to PDSA. It wasn't until later that I realised that one of the aerial antennas was missing from my TV."
Alphie is now back at home fully recovered after his surgery. But according to his owner, his brush with the vet's table hasn't taught him anything.
"He's a real handful and I have to watch him all the time because he'll try to stick anything in his mouth," she said. "He still loves the TV too but I don't leave him alone with it any more."