Working animal charity SPANA creates 'Holiday Hooves Guide' to provide tourists with tips on how to choose healthy animals for holiday excursions.
A charity that helps working animals across the world is encouraging the public to do its homework before travelling abroad, so they can improve the welfare of animals used in tourism.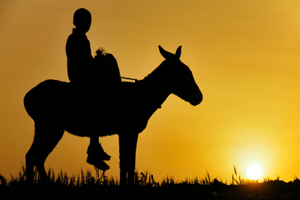 According to SPANA, thousands of donkeys, horses, mules and camels are used to transport tourists on excursions, but despite the animals' hard work, many holidaymakers report seeing them neglected, poorly treated and abused by their owners.
To help improve the welfare of the animals, SPANA has launched the Holiday Hooves Guide to provide tourists with "simple" tips on how to choose animals that appear healthy for jobs such as donkey rides, horse-and-carriage tours and camel safaris.
The advice also includes information on how people can report animal mistreatment to country tourism boards and lobby for animal welfare legislation, said SPANA.
SPANA's veterinary programme advisor Laura Higham said: "Every year we receive countless letters from distressed tourists who have seen donkeys, horses or camels mistreated or worked in a poor condition abroad.
 
"We know that as a nation of animal lovers this experience can ruin people's holidays, especially if they've used an animal for an excursion and then realised it's in need of veterinary treatment.  To help tourists choose animals that appear healthy we're urging them to read our guide before they travel.
 
"We're also calling on veterinary practices to promote our advice to their clients where they can," she said.
To download or order a free copy of the Holiday Hooves Guide, visit SPANA's website.
Image © istockphoto.com/RoyalTino