A conservation charity has announced it is preparing a male and female polar bear to meet for the first time.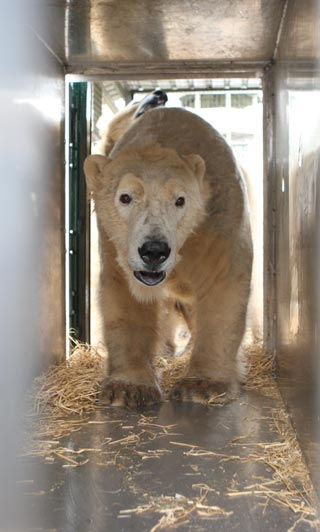 According to the Royal Zoological Society of Scotland (RZSS), the meeting of male Arktos and female Victoria is "the latest and most exciting step" in its efforts to support a European breeding programme for the "at risk" species.
Preparing for the move
The society – which operates Edinburgh Zoo and the Highlife Wildlife Park in Kingussie – has moved a large transportation crate into the former's polar bear enclosure and will be habituating Arktos in it over the coming month.
Eventually, it is hoped, he will be comfortable enough in the crate to be transported across the park to an enclosure adjacent to Victoria's.
Matchmaking
The two bears will be able to communicate and interact through a secure fence and keepers "fully expect" to see them showing an interest in each other very quickly.
Douglas Richardson, head of living collections at RZSS Highland Wildlife Park, said: "As with any introduction of large predators, the process must be approached slowly and carefully, paying close attention to positive behavioural indicators, such as vocalisations and body posture.
"Whether we wait until Victoria comes into full breeding condition before mixing them together will depend on how they react to each other in the build-up to that key point."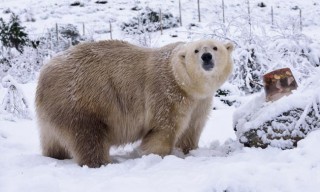 Duty of care
Mr Richardson claims the zoo community has a "duty of care" to help polar bears survive.
He said: "Collectively, our work is helping to preserve as varied a mix of genes as possible; it will also maintain the option of being able to return animals to the wild at some point in the future.
"While Victoria's cubs will never go back into the wild themselves, further down the line her offspring may well play a key role in restoring or augmenting populations in the Arctic."