Blue Cross is urging owners to neuter their cats after revealing it is facing its worst kitten crisis.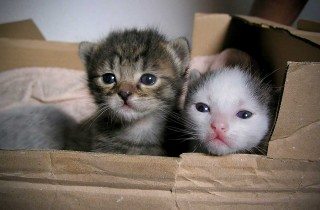 Numbers of unwanted kittens arriving at the charity's rehoming centres across the country are the highest they have seen.
It has seen a 35% rise in the number of kittens taken in so far this year, compared to the same period last year, and is caring for nearly 150 kittens at present.
Blue Cross has warned "kitten season" has only just begun and it is worried it will be a record year for unwanted ones, with numbers usually peaking in late summer.
Non-stop
Laura Boyle, rehoming centre manager at Blue Cross Torbay in Torquay, said: "We took in our first litter of kittens not long after Christmas and haven't stopped since.
"We are constantly caring for one or two pregnant cats and several litters of kittens at a time.
"Getting your cat neutered will not only prevent the birth of unwanted litters, but also have health benefits for the cat.
"Many pregnant cats we take in are not much more than kittens themselves and having kittens can be really stressful – and potentially dangerous – for them."