Hounds for Heroes has received a £8,283.23 boost thanks to the Vets4Pets support office, which selected it as its charity of the year.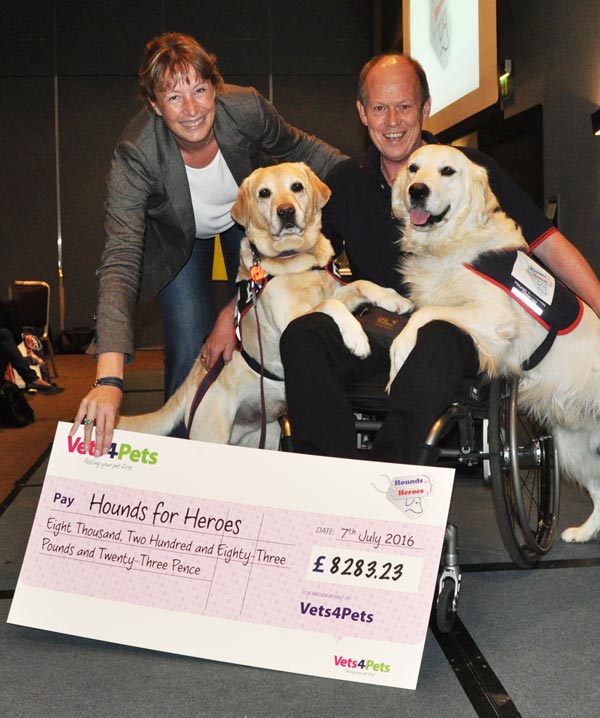 The money was raised through a series of events and initiatives, including:
a cycle relay race
a climb up Snowdon
car boot sales
cooking colleague's breakfasts
The donation means the charity, which provides specially trained assistance dogs to injured and disabled members of the UK armed forces and civilian emergency services, can now complete the funding of another dog to be trained to help those in need.
Companionship and support
As well as performing routine tasks, the labradors and golden retrievers provide companionship and support for service personnel seriously hurt in Afghanistan and other conflicts, along with civilian emergency services who find themselves injured and unable to work.
It costs about £25,000 to train and care for a dog throughout its lifetime service with Hounds for Heroes. The money covers all expenses, including food, veterinary support, insurance and accommodation.
'Significant donation'
Allen Parton, founder and vice-chairman of Hounds for Heroes, said: "We're grateful for all donations and it's great to see Vets4Pets supporting our charity with a significant donation.
"We pay for all the costs during the time a dog is with us because we don't want a young service person who has a partner and children to be worrying about dog food or a vet's bill.
"This donation means we've got enough money to complete the funding and provide another dog for the programme."