A charity ball organised by the The Scarsdale Veterinary Group inDerbyshire has successfully raised £5,646 for the Derbyshire,Leicestershire and Rutland Air ambulance.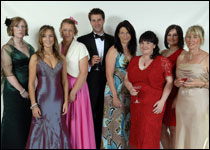 The fund-raising ball, held on July 4, was attended by over 260 people from the local community. The money was raised through a combination of prize draws, a charity auction and a raffle – for which the topprize was a trip to the Ritz London.
The evening started with a drinks reception and a meal, put on the staff of Shottle Hall. Entertainment was provided by local band The Disco Biscuits, followed by DJ Chris Tester; bothof which were said to have been "very well received by guests".
Equine partner Wendy Furness said: "This was the first time we have put on a ball. We felt that many charities were suffering during the downturn in the economic climate and that we could use some of our resources to help to raise money for an important local cause.
"Staff on the committee have worked very hard to ensure that every detail was considered. The ball committee was made of members of all departments and gave people who do not normally work together a chance to do so. The event was very well planned and marketed by the team, resulting in it being sold out well in advance."