Great Western Exotics (GWE) has promoted specialist Tom Dutton to lead the service after the retirement of its long-serving head Neil Forbes.
Dr Forbes is stepping down after a career spanning more than 30 years in the veterinary profession and 20 years leading GWE.
Dr Dutton joined GWE in 2012 before gaining an RCVS Certificate in Advanced Veterinary Practice in Zoological Medicine. He went on to complete his residency in avian medicine in 2015 and diploma in 2017 – both under the tutelage of Dr Forbes.
Based at the Vets Now hospital in Swindon, GWE is renowned for its work with avian and exotic animals.
Continuing legacy
Dr Dutton said: "I am thrilled to be continuing Neil's legacy here at GWE and I'm committed to providing a seamless transition for our referring practices.
"The hospital is in a unique position to provide a truly 24/7 first opinion and referral service staffed exclusively by exotic animal veterinarians and exotics qualified nurses.
"I particularly look forward to meeting new referring practices and treating the varied and exciting case load we see here at GWE."
Indebted
Vets Now clinical director Amanda Boag, congratulated Dr Dutton on his appointment and said it demonstrated the company's continuing commitment to GWE.
She said: "'We are indebted to Neil for his expert service and dedication to his patients, their owners and our referring vet community.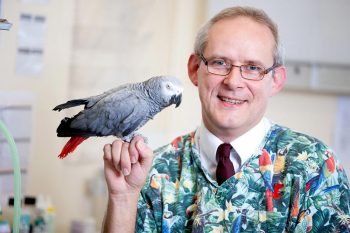 "We are very proud to have GWE as part of the Vets Now team and thank Neil for the strategic leadership he has provided through the early days of our acquisition of Great Western Referrals and beyond.
World class
"I can assure referring practices and exotics pet owners that, under Tom, GWE will continue to have a talented and dedicated referral team, made up of world-class specialists."
Dr Forbes, one of the world's leading experts on avian and exotic veterinary medicine, started his career in 1983 and gained his European diploma in 1997. He played a pivotal role in integrating GWE into the Vets Now portfolio in 2011.