The UK's first National Pet Remembrance Day, created to help people cope with the loss of a beloved pet, will take place on Sunday, July 5.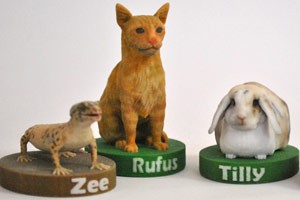 It has been set up by Arty Lobster, which specialises in 3D pet sculptures, and Pets Magazine, to give owners an opportunity to pay tribute to their pets.
A Twitter chat will take place on Sunday using the hashtag #PetRemembranceDay for people to show their support and share thoughts and photos.
Owners also have a chance of winning a 3D sculpture of their deceased companion animal created by Arty Lobster (www.artylobster.com), by submitting photos of their pets, together with a sentence or two about why they miss them.
Photos can be posted on www.facebook.com/ArtyLobster or tweeted using hashtag #PetRemembranceDay. All entries must be submitted by midnight on Sunday.
The organisers say there are several ways in which people can remember their pets:
a memorial service in a place where the pet liked to walk or play
a memento, such as a sculpture of the pet
a living memorial by planting a tree or flowerbed
a pet portrait
a scrapbook with photos and other reminders
an online memorial with photos
a poem about the pet
volunteering at an animal rescue centre in remembrance of the pet