Ceva Animal Health has launched a cat-friendly amlodipine to treat hypertension in cats.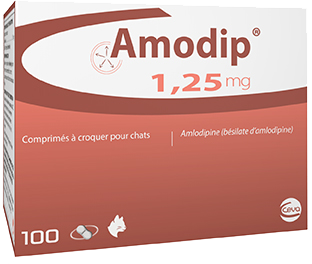 Amodip, the latest product to be added to the company's feline nephrology range, is a chicken-flavoured chewable tablet.
The 1.25mg tablet includes a two-way break to allow easier dosing of 0.625mg for smaller cats, says Ceva.
Each box contains 100 tablets in blister packs.
Aiding compliance
Ceva says Amodip will make it easier for pet owners to be compliant with the recommended treatment protocol and ensure each cat is getting the right dose, reducing the risk of side effects.
Amodip will be supported by videos and literature on how to measure hypertension in practice easily and with less stress, written by the International Society of Feline Medicine (ISFM).
For further information, or to request copies of the ISFM hypertension materials, contact your local Ceva Animal Health territory manager or telephone 01494 781510.