Animal charities in more than 60 countries worldwide have been donated veterinary supplies and equipment by Ceva Animal Health.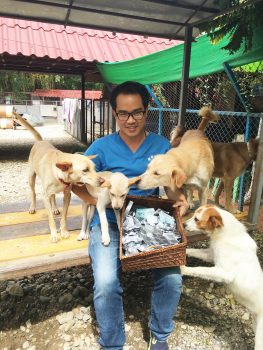 The donation, which included dog and cat wormers, skin and joint supplements and NSAIDs, were made to the Worldwide Veterinary Service (WVS).
They were dispatched to the WVS' own centres and shelters in Thailand, including its Care for Dogs shelter in Chiang Mai, Thailand, as well as to more than 60 animal welfare charities around the world, all of which had registered a "wish list" to the WVS.
International aid
One of the charities benefiting from Ceva's donation of more than 1,000 worming tablets was the Liberia Animal Welfare and Conservation Society (LAWCS), which, in a country where dogs are often kept in horrendous conditions, provides:
responsible dog ownership education
free veterinary care
treatment and community outreach feeding programmes to pet owners
The WVS's donation helped enable LAWCS to reach and provide free veterinary care and treatment to 420 dogs in the country.
Much appreciated
Chief executive and founder of WVS Luke Gamble said: "The donation from Ceva is fantastic and we can't thank the company enough. Its support means so much to the charity and enables us to help animals in tough places where veterinary support is hard to find."
Managing director at Ceva Cuneyt Seckin said: "Our donation to WVS helps charities and organisations whose veterinary resources can be scarce or extremely difficult to fund improve the welfare conditions of animals often kept in horrendous conditions.
"Treatments such as wormers are the most requested items by WVS' associated charities, so we are delighted our donation has been able to impact the welfare of individual animals."