ThePet.net co-founder and in-house vet Marc Abraham will be appearingon Channel 5 News this evening to talk about the horrific practice of puppy farming in the UK.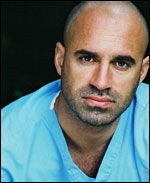 The programme will see Mr Abraham operating on an ex-breeding bitch called Dolly, commenting on previously unseen undercover footage taken recently in a typical puppy breeding establishment, and giving dog-lovers valuable consumer advice on how to make sure they are not buying a puppy farmed dog.
Writing on his personal blog, Mr Abraham said of the undercover footage: "I witnessed bitches with huge mammarytumours, corneal ulcers, severe behavioural problems; all allowed tosuffer in the darkness with their food bowls full of faeces and theirwater bowls empty."
"This wholeepisode made me even more determined to educate the public and makethem aware of what's happening on the sinister side of our British dogbreeding industry."
Tune in to Channel 5 at 5pm and at 7pm this evening (August 4) to see the report.
To find out more about puppy farming, visit ThePet.net, where you can also book free tickets to the World's Biggest Puppy Party at Brighton Race Course on this year's Puppy Farm Awareness Day (September 19).