Many vets are failing to recognise post-neutering pain in cats, it has been claimed, with a survey showing only 33% of felines receive postoperative analgesia (at home), compared with 75% of dogs.
The claim, from Jo Murrell, reader in veterinary anaesthesia at the University of Bristol, comes as the International Society of Feline Medicine (ISFM) launches a campaign highlighting the need for all cats to receive post-neutering pain relief.
Dr Murrell is co-author of the study that sparked the ISFM's campaign. She said there was a general perception among vets that cats returned to normal quickly after neutering, so did not require postoperative analgesia.
"But we have studies to suggest that is not the case and they do show signs of pain when at home with their owners, so I think the way we can make the biggest improvement is improving postoperative analgesia," Dr Murrell told Veterinary Times.
"On the face of it, cats recover very quickly and when they are recovering… in the veterinary practice, they can be quite active and lively, and it looks like they are not in any pain. So I think vets are just not recognising it."
Difficult to recognise
Cats are also very good at masking signs of pain, which can be an issue, she said.
"Whereas dogs might be more vocal or attention-seeking, cats tend to hide away and it's very easy to forget that loss of normal behaviour repertoire is associated with pain."
However, she said the use of analgesia had improved hugely since a similar study was conducted in 1996. At the time, 25% of cats were given analgesia for neutering and now more than 95% received an NSAID at the point of surgery, which is a "massive" improvement.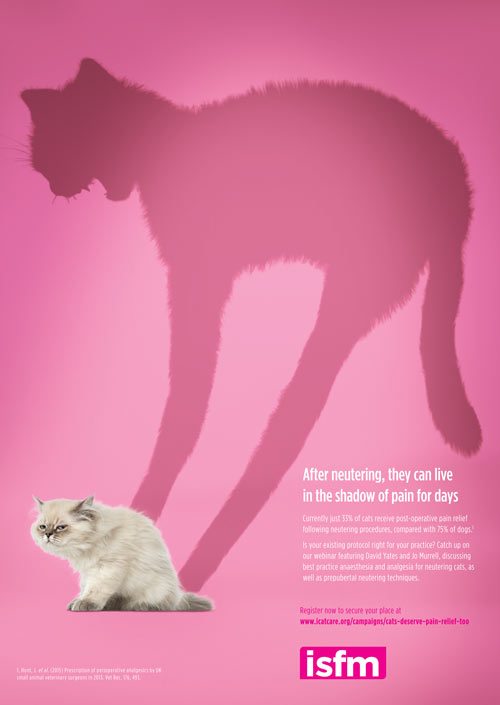 Dr Murrell said: "But I think in cats it's very difficult to recognise when they experience postoperative pain and because owners don't know what to look for either, the fact cats are painful post-op is overlooked, hence analgesia is not prescribed at home.
"Vets are doing a good job with analgesia on the day of surgery, but this could be improved by extending analgesia to the post-op period as well – having more data to show it's necessary would also strengthen the argument to give it."
Education
Another issue is owners looking to get their pet neutered will often contact various clinics about costs and go for the cheapest option – not realising the less expensive option often does not include analgesia to take home.
The solution, she said, was to speak to, and educate, owners so they understood surgery caused pain a number of days postoperatively and it was best practice to give analgesia.
"It is about talking to the owners to say your cat spay is a little bit more expensive because we are giving analgesia for three days afterwards, but we recognise cats do feel postoperative pain when at home and this is going to benefit your cat's recovery," Dr Murrell said.
Read the full article, including comment from BSAVA and BVA, in the 5 September issue of Veterinary Times.