Cats Protection has appointed a newfield veterinary officer, who will enable the charity to support theveterinary aspects of its work across its network of centres and branches in the north.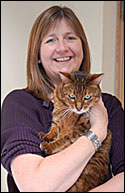 The new position is being filled by 42-year-old Lisa Morrow who will be based near Derby. She will be responsible for providing veterinary guidance to the northern region of the UKs charity, from Birmingham to the Shetland Islands and Northern Ireland.
Dr Morrow previously worked for Cats Protection as head of veterinary services and was keen to work for the charity again.
She said: "I am delighted to return to Cats Protection because the commitment shown by its staff and volunteers to help improve the lives of cats is unparalleled. I hope that my experiences outside of the organisation, coupled with the previous knowledge I have of the charity, will help to support Cats Protections work in the north."
Originally from Northern Ireland, Dr Morrow emigrated to Canada in the 1970s and returned to the UK in 2000. She graduated from the Ontario Veterinary College at the University of Guelph, Canada, in 2000.
Prior to training as a vet, she taught and researched method development in the field of medical laboratory science for five years at the University of British Columbia in Vancouver. More recently, Dr Morrow completed a masters degree in veterinary epidemiology at the Royal Veterinary College and the London School of Hygiene and Tropical Medicine.