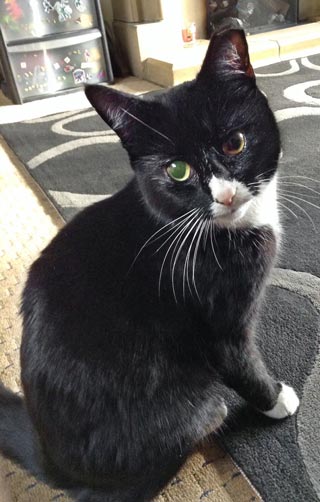 The RSPCA is appealing for information after a cat suffered about 30 shotgun pellet wounds – including two narrowly missing its spinal cord.
The three-year-old female cat was hit in the body, paw and face – and vets say it is likely to need its left eye removed.
The animal, called Puss-Puss, disappeared shortly after gunshots were heard close to her owner's home in Ardleigh, Colchester. A week later, she dragged herself home and was rushed to the vet, where x-rays revealed pellet wounds all over her body.
Miracle
RSPCA inspector Adam Jones said: "We were shocked to find Puss-Puss was peppered with such an extraordinary number of pellet wounds all over her body and head.
"One was in her paw making it hard for her to walk and another in the middle of her eye – causing a detached retina. The vet said two just missed her spinal cord and it is a miracle she survived.
"We urge anyone with information about what happened to this cat to call us, in complete confidence, on our appeals line on 0300 123 8018. She would have been incredibly distressed and in a lot of pain and we want to do all we can to stop such a callous act happening again."
Terrible state
Owner Doug Taw said: "I can't think what sort of person could have done this to her. We heard some gunshots, but didn't imagine at first it could have anything to do with Puss-Puss. Then we found her crouched under a car, frightened and injured.
"She ran off and we couldn't find her for a week. I was beside myself with worry. Then she eventually dragged herself back in a terrible state and we rushed her straight to the vet.
"It is heartbreaking seeing her in such a distressed state and I am so upset she will now lose her eye. It is a miracle she survived, but it's going to take a lot for her to get back to her normal self and she will obviously always bear the scars."