The RSPCA is trying to trace the owner of the cat – called Hope by the charity – after she was found by a member of the public in Merthyr Tydfil.
The RSPCA is trying to trace the owners of a pregnant cat found dumped in a wheelie bin with severe injuries.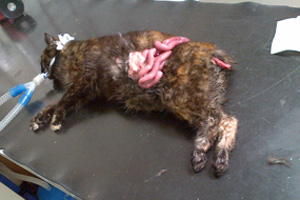 As well as an adnominal injury which had left her intestines hanging out, the young tortoiseshell cat – found by a member of the public in Merthyr Tydfil – also had serious lacerations to its tail.
The cat – which has since been dubbed Hope – was otherwise in good body condition and had a pink leopard print collar with a bell, but was not microchipped. The animal welfare charity believes she may have been injured and then deliberately dumped in Lupin Close, Merthyr Tydfil, on or around April 9 (2013).
RSPCA inspector Sian Burton said: "The person who found the poor cat only discovered her because they heard her miaowing. It is amazing she still had the strength to cry, as she was so badly injured she couldn't even move.
"There is no doubt this cat will have suffered extreme pain and distress. To be so badly injured and then dumped in the dark and left to die – it is just awful.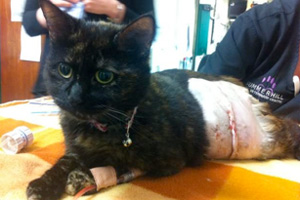 "Her owners may be searching for her, and don't know what's happened."
The cat was taken to a vets in Newport, where she underwent emergency treatment, including amputating part of her tail. The vets also managed to keep the cat's kittens in her stomach, where they seem to be doing well despite the ordeal.
So far, says the charity, Hope seems to be responding well and it is hoped she may make a full recovery.
The RSPCA is now hoping to trace the cat's owner, and is appealing for witnesses who may have seen what happened to her.
Anyone with any information is asked to contact the RSPCA on 0300 123 8018.