Diabetes, parasitic diseases and acupuncture in cats will be among the topics featured at this year's Feline Advisory Bureau (FAB) Annual Conference.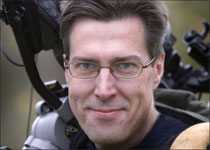 The event, which is to be held at the Apollo Hotel, Basingstoke, on Saturday, October 31, will be sponsored by Royal Canin. FAB lecturers and residents in feline medicine at Bristol and Edinburgh universities – Andrea Harvey, Rachel Korman and Kerry Simpson – will share their knowledge on diabetes, constipation and the home managing cats with heart disease. Sue Shaw, senior lecturer at the University of Bristol, will look at emerging vector-borne and parasitic diseases in cats influenced by climate change, in addition to travelling cats. Alex German, Royal Canin lecturer in small animal medicine at the University of Liverpool, will provide tips for weight loss in fat cats.
Mike Dale of North Kent Referrals' Veterinary Specialist Centre with share his specialist expertise in acupuncture in cats (pictured below). On the wilder side, Andy Langley (pictured above), wildlife cameraman and producer from Wild Media Foundation will talk about capturing wildcats on film.
TheRVC's Lyn Forster will be asking delegates about cats that have had a limb or tail amputated and how they are managing – do cats suffer from phantom limb pain? Find out how she aims to investigate.
Th
e meeting is open to all members of FAB and interested members of the public, including veterinary surgeons, veterinary nurses, cat breeders, cattery proprietors, those involved in cat rescue and cat owners.
Registration costs £55 (FAB members can use their membership's £7 educational vouchers against this, making it £48) and includes lunch, tea and coffee. To register, download the registration form from www.fabcats.org/conferences and return it to the FAB office, Taeselbury, High Street, Tisbury, Wiltshire SP3 6LD, email conferences@fabcats.org or telephone 0870 742 2278.