The BVA has welcomed the publication of a report that aims to tackle some of theconcerns raised by the EFRACom inquiry into vets and veterinary services in 2003.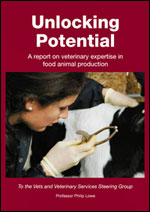 The personal report by Philip Lowe, chairman of the Vets and Veterinary Services Working Group, is entitled "Unlocking Potential: a report on veterinary expertise in food animal production" and was commissioned by DEFRA to consider whether there is a shortageof farm animal vets in Great Britain.
However, the report concludes that there is no such shortage, nor a lack ofinterest in veterinary graduates pursuing a career in farm animalveterinary work. Instead, it focuses on identifying the potential for vets to increase theirrole as providers of expert advice to the farming and food industries.
BVA president Nicky Paull said: "With the recent DEFRA consultation on responsibility and cost sharing and a proposed new structure for animal health in the UK, now is the right time for vets to take stock of where we are and where we are going.
"Professor Lowe's report sets out a number of challenges and we welcome the opportunity to consult widely with our members and take forward ideas and proposals to ensure a healthy future for the veterinary profession. Over the years vets have adapted to many changes and the profession has never shied away from these challenges.
"Although the primary focus of the report is veterinary surgeons working in farm and food animal practice, many of the issues raised cut across the whole of the profession. We will be seeking the views of all our members and divisions to ensure we are at the centre of shaping how the recommendations are taken forward."
The full report is available to download from the DEFRA website.