Concern that vets may lose their right to prescribe and sell antimicrobials has grown following the adoption last year of a proposal by the European Parliament's committee for environment, public health and food safety.
The UK veterinary profession must win the fight to prevent decoupling.
Concern that vets may lose their right to prescribe and sell antimicrobials has grown following the adoption last year of a proposal by the European Parliament's committee for environment, public health and food safety.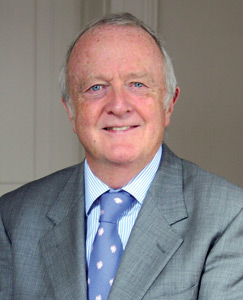 The proposal, submitted by Danish MEP Anna Rosbach, contained measures designed to reduce the threat posed by antimicrobial resistance.
FINANCIAL IMPETUS
These included decoupling the right of vets to prescribe antibiotics from their right to sell those drugs, a step that could cause serious problems, according to BVA president Peter Jones.
He said: "The driving force behind this for the Danes is large animal practice because they are accusing the profession of making too much money selling antimicrobials and they feel the financial impetus is what is driving oversubscribing of antimicrobials by vets in large animal practice.
"This is all part of the hysteria of the Scandinavians, notably the Danes, driven by a cadre of people in the authorities there, many of whom are ex-World Health Organisation (WHO).
"The executive director of WHO, Margaret Chan, said at a conference on this subject in Denmark, 'healthy animals mean unhealthy humans'. She had no data for making that claim so what this means is we have got to stand up and defend it."
Mr Jones added: "As we speak, the commission is busy writing the new medicines regulations and there is no knowing where they will go.
"I think it will be a real disaster in rural practice. It would break that link in the clinical diagnosis and supply of medicines that is all part of the health planning vets have in the crucial relationship with farmers."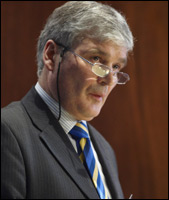 With an EU animal medicines directive expected later this year, the UK veterinary profession has been urged to ensure its views are taken into account. According to the chief executive of NOAH, Phil Sketchley, it is vital everyone is aware of the facts.
"We should not run away from this with doom and despondency. Just because the European parliament has discussed it does not mean the European Commission will take it up," he said.
"I think we have to accept this [the threat of decoupling] as a reality, but there are still a lot of things to go through. The initial driver was focused around antimicrobials and that was the key thing. My concern would be that if it did get legs and did grow into a bigger debate with the commission, I think it would be difficult for decoupling to be applied just for antimicrobials and the danger is it may apply to all medicines and that could have an impact.
"We must make sure the mischief coming out of some quarters about how vets use antibiotics is being countered. I was in Westminster Hall for a debate on this subject and listened to Zac Goldsmith put forward his arguments as to why decoupling should be applied and I have to say the information was either inadvertently or mischievously put over in that it was quoting inappropriate figures.
"For example, it was stated that fluoroquinolone use in veterinary practice had gone up by 70%. That statistic may be correct, but it was out of context in that fluoroquinolone still only represents about half of 1% of all the antimicrobials used in the UK veterinary profession."
REGULATIONS THREAT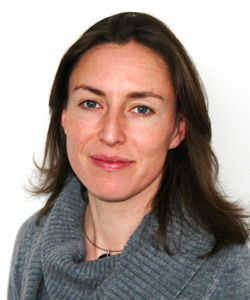 Mr Sketchley is also concerned the directive could be released in the form of veterinary regulations. He said: "There have been some rumblings of late that the next directive may be released as veterinary regulations and that puts a completely different picture on it because it means member states will be obliged to introduce the regulations as they apply across the whole of Europe. If that happened there would no means of the VMD tinkering round the edges and applying it to the needs of the UK veterinary profession."
"There are a lot of ifs and buts, but the concern we all have is because of the delays in the release of the impact assessment it is unlikely this will get through the current European parliament unless everyone pushes it very quickly."
Former SPVS president Gudrun Ravetz added: "Decoupling is a real threat and it is one we have to wake up to. We need to make sure we have our house in order and ensure we are using antimicrobials better.
"We are being made scapegoats at the moment and I think that is unfair. The chief medical officer has said there could be an apocalypse of antimicrobial resistance and I agree that could be the case, but it is not all the fault of the veterinary profession.
"We have to be sensible and not panic and we have to speak with one voice."