The BVA launched its animal welfare strategy at its annual London dinner, highlighting the veterinary profession's opportunity to advocate animals' best interests at individual, community and political levels.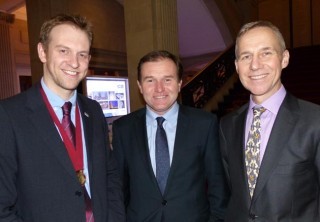 Just more than 50 years since The Brambell Report, 10 years on from the Animal Welfare Act 2006 and following 18 months' consultation, BVA president Sean Wensley presented "Vets speaking up for animal welfare" to an audience that included Defra minister George Eustice, other MPs and peers, industry representatives, NGOs, journalists, retailers and animal welfare scientists.
Animal advocates
BVA's animal welfare strategy provides a framework to help the veterinary profession advocate good animal welfare, identifying six priority areas as building blocks for future action:
animal welfare assessment
ethics
legislation
education
advocacy
international
The aim of the strategy is for the BVA, its members and specialist divisions to contribute to solutions for real-world animal welfare problems.
Raison d'etre
Mr Wensley said: "Brambell's report set in motion the now thriving field of animal welfare science – determining how animals perceive the world, and what they need and want from their perspectives – and, in light of this new scientific understanding, society is increasingly examining how we ought to use and treat animals.
"Protecting and promoting animal welfare is the veterinary profession's raison d'etre. It's a declaration each of us makes when we become members of the RCVS.
"As vets, we recognise we are part of an interdisciplinary community seeking to promote the best interests of animals and improve their treatment, wherever they are used or impacted on by people. It's a community that includes NGOs, retailers, politicians, scientists, philosophers and economists.
"Vets' opportunity to be advocates for animals may be the greatest of all those who act in the interests of animals – and we have clear social, professional and legal responsibilities to do so."
The VetFutures report, launched last November as part of the ongoing project led by the BVA and RCVS, identified veterinary leadership in animal health and welfare as one of the six key ambitions in its 2030 vision for the veterinary profession.