The BVA is urging owners to be aware of potential poison hazards to their pets this Christmas after 80% of vets saw at least one case of toxic ingestion in animals over last years' festive period.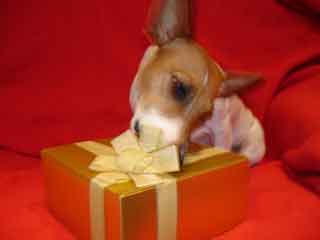 Across the UK, chocolate poisoning in dogs was the most common cause of toxic ingestion at Christmas, with 73% of vets seeing at least one case.
Voice of the Profession
Several vets in BVA's Voice of the Veterinary Profession survey said, despite owners' best intentions, pets had been poisoned after gifts containing chocolate were placed under the Christmas tree, with the owner unaware of the potential peril for their pet lurking beneath the wrapping.
Many cats also suffered toxic ingestion last Christmas, with a quarter of vets treating cats for antifreeze poisoning.
One in five vets also treated cats for ingestion of poisonous plants, including lilies, which can be fatal. Lily and other pollens can get stuck on cats' fur and are usually ingested, accidentally, when they groom themselves. Ingesting any part of the lily can result in life threatening kidney issues for cats.
Curious cats may also be tempted to sample plant berries, such as holly or mistletoe, which can also lead to stomach upsets and vomiting.
President's warning
BVA president Gudrun Ravetz, said: "Christmas is typically a fun and chaotic time, with presents and treats often arriving in our homes.
"Many pet owners are aware of the risks of chocolate poisoning to their pets, but, as our survey shows, it's easy to be caught out by a box of chocolates left on the side that curious animals can find hard to resist.
"If you suspect your pet may have eaten something they shouldn't, don't delay in contacting your local vet."