BVA leaders raised the profile of the veterinary profession at meetings with MPs at Westminster.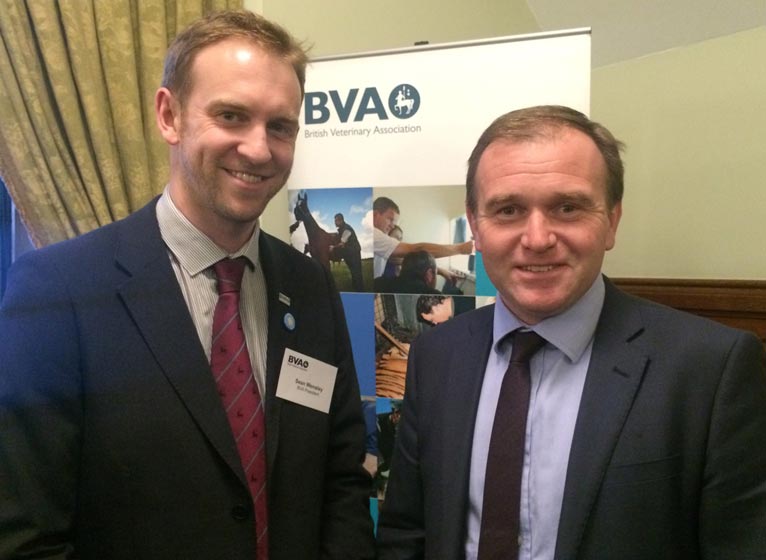 In October, the association engaged almost 100 parliamentarians and policy makers across the main political parties.
BVA president Sean Wensley said the association had promised its members it would be a strong voice for vets.
He said: "Our work with the media has grown exponentially over the past couple of years, positively placing the veterinary profession in public view.
"BVA's public affairs work is sometimes less visible, taking place behind closed doors, but it is equally important; ensuring the views at the heart of the veterinary profession reach the people who shape the policies and legislation that affect our everyday and working lives.
"Events such as the parliamentary briefing help to establish BVA as a resource for parliamentarians on any and all matters of animal health and welfare. We also encourage MPs to get to know their local veterinary practices and see them as a way to get positive messages about animal health and welfare out to the general public."
Successful reception
BVA held its annual afternoon tea reception, hosted by honorary associate Huw Irranca-Davies MP, which drew a record number of MPs and researchers, including Defra minister George Eustice, shadow environment secretary Kerry McCarthy and Liberal Democrat environment spokesman Baroness Parminter.
Mr Wensley highlighted some of the association's priority areas for the coming year, such as one health and antimicrobial resistance, welfare at slaughter, bTB and supporting the veterinary nurse title campaign, which received a lot of support from MPs of all parties.
MPs were also invited to discuss any veterinary or animal health and welfare issues of personal or political interest with representatives from the BVA, BCVA, BEVA, BSAVA, SPVS and BVNA.
Briefing on bTB
The BVA also held a bTB briefing attended by MPs from affected areas in England, Wales and Northern Ireland, as well as other interested MPs. The event, hosted by MP and BVA honorary member Neil Parish, focused on the scientific evidence, ethics, practical control measures and BVA's current policy position.
Mr Wensley and BVA senior vice-president John Blackwell delivered the presentation and took questions on a range of issues relating to the disease.
Mr Blackwell said: "We used the briefing to stress the importance of a comprehensive evidence-based strategy that tackles the disease in wildlife as well as in cattle in a humane and targeted way.
"BVA's autumn parliamentary briefings have offered a fantastic opportunity for MPs to speak to BVA about the current issues affecting their constituents, or coming up in Parliament. It was also a chance to brief MPs on the key topics with a political impact that matter most to us."
Mr Wensley and Mr Blackwell also attended a parliamentary reception for the Food Standards Agency at the House of Commons to reiterate the BVA's position on welfare at slaughter.
Visit here To find out more about BVA's parliamentary activity or get involved in any of its campaigns.