It's higher, faster and stronger for the athletes at the Olympics right now, but the Rabbit Welfare Association and Fund is also encouraging rabbit owners to improve the fitness of their pets with their Bunnylympics.
With Olympic fever gripping the nation, the Rabbit Welfare Association and Fund has an important message to get across.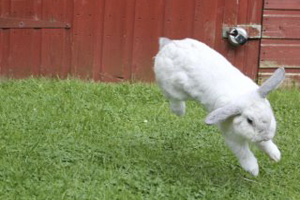 "Higher, faster, stronger" may be the motto for the human athletes at London 2012, but apparently it's a mantra that holds just as true for your pet rabbit too.
Which is why the RWAF is promoting its Bunnylympics, a new initiative designed to encourage owners to keep their beloved bunnies in tip-top condition.
To help owners get started, the charity has released details of a number of sporting events for rabbits, including long jump, sprint and hurdles.
Relay races, bunny football, gymnastics and of course digging and tunnelling are also part of a programme sure to keep pet rabbits across the country in peak health.
A spokesperson said: "The Government is promoting fitness for all in this Olympic year, and because so many rabbits suffer health problems because of bad diet and lack of exercise, we are joining in with a call for fitness for rabbits.
"So are your bunnies world-beating athletes or couch potatoes?
"We would urge people to remember, however, that none of the Olympic athletes got as fit as they are in a day.
"For them, it takes years of training so please remember if your rabbits are not used to having lots of space, don't throw them in at the deep end. Increase their area gradually with a partition within a larger enclosure over a period of weeks.
"An overweight, unfit human can't take to the running track and neither can your rabbit, so do it slowly – but please do it."
Visit www.rabbitwelfare.co.uk for more information.