A family is looking forward to spending Christmas with its pet dog after receiving cancer treatment that has enabled him to "enjoy life" again.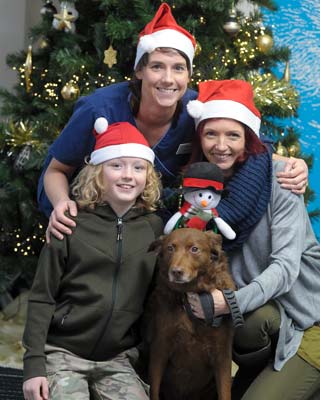 Earlier this year, the Harrison family, from Warwickshire, received news Buddy, its 14-year-old rescue dog, had prostate cancer.
However, vets at Willows Veterinary Centre and Referral Service in Solihull suggested a course of drug treatment instead of surgery for the Labrador retriever.
Veterinarian Amy Knapman, who led Buddy's treatment, said: "Poor Buddy came in to see us with a high temperature and pain in his abdomen. An ultrasound scan was performed by one of our radiologists, who was very concerned about the appearance of his prostate gland and suspected the changes reflected a cancerous growth."
Trialling treatment
She added: "Surgery in this area is very challenging and, as Buddy was also having some difficulties urinating, we were quite worried about his overall prognosis. We recommended trialling treatment with anti-inflammatory medication to, hopefully, alleviate some of his symptoms.
"We – and the Harrisons – were delighted to find the medication resolved Buddy's symptoms. The treatment is palliative, but he is at least now able to enjoy a happy life back at home."
In good hands
Owner Fiona Harrison said: "It was a very sad time for us, as he is such a big part of the family. We were at a point when we thought we were saying goodbye to Buddy, then the specialists at Willows suggested a different course of drugs.
"He's gone from being unable to even wag his tail to enjoying his life again. Amy and the team at Willows were wonderful. They explained everything very carefully and diplomatically, and it was very reassuring to know Buddy was in such good hands."
Mrs Harrison works for Romanian rescue organisation A Dog's Life, which is currently seeking support to move two homeless puppies called Autumn and Summer to the UK.
She said: "There are tens of thousands of stray dogs in Romania. We are desperately hoping to raise enough money to transport Autumn and Summer here to find them a home this month."
For more information visit www.gofundme.com/saving-autumn-summer-from-winter