Six puppies with parvovirus in need of "urgent" veterinary treatment have been dumped in a bucket and abandoned days before Christmas.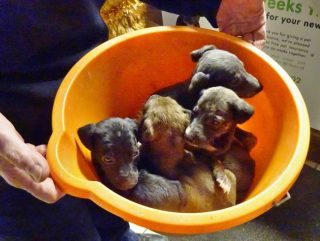 The five-week-old pups, thought to be lurchers, were abandoned in a bright orange bucket on a doorstep in Halebourne Lane, Chobham, Surrey on 14 December. Vets are working to save them.
Callous
RSPCA inspector Rob Jackson said: "To dump an animal at any time of year is heartless, but to do it just before Christmas is callous. It is quite possible they were bred to be sold as Christmas presents, but were dumped when they became ill. We may never know – but what is certain is no animal deserves this kind of treatment.
"These poor pups are young and still very much dependent on their mum and, of course, human care. They were left on that doorstep on a cold, wet winter's day without a second thought.
"We would urge anyone who knows about what happened to contact us as soon as possible on 0300 123 4999."
Treatment
The puppies have been named after Santa's reindeer – Cupid, Dasher, Blitzen, Rudolf, Prancer and Dancer – and are being cared for at RSPCA Millbrook.
Centre supervisor Claire Jones said: "It is so sad. I cannot imagine why anyone would do that sort of thing – especially bearing in mind how ill they are.
"These puppies needed urgent vet attention, but instead of taking them to a vet the person just left them on a doorstep. The puppies are all still under vet treatment. We are doing everything we can for them."