Vivienne Heys has been awarded the British Empire Medal after almost 40 years service to higher education and animal health at the RVC.
A long-serving RVC member of staff has received a new year honour for services to higher education and animal health.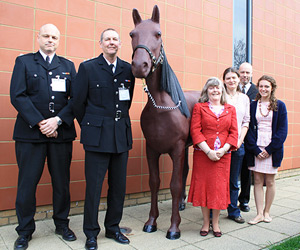 Vivienne Heys has worked at the RVC for 38 years, initially as a technician and subsequently in various teaching and research roles. Her current position is departmental superintendent.
She is the recipient of a British Empire Medal, an award that had not been given since 1993, but was revived in 2012 for the Queen's Diamond Jubilee. As well as senior members of the college, the nomination for the award was supported by London Fire Brigade (LFB) and the Society of Biology.
Vivienne has been involved with training LFB firefighters in livestock handling, on behalf of the college, since 2001. The collaborative course, drawing on her extensive experience teaching students how to handle animals, was the first such programme in the country.
The course led to Vivienne helping to design a training DVD and developing a large animal rescue kit. In recognition of her efforts, the LFB last year donated a life-size horse model to the RVC – nicknamed Fireman Sam by students – for use in undergraduate training.
She has been involved with the Society of Biology (and previously the Institute of Biology) for more than 40 years, having joined as an undergraduate zoology student. Vivienne is passionate about nature and has a particular interest in bats and their conservation. This interest has led to her becoming a prominent member of the Bedfordshire Bat Group and leading regular "bat walks".
Commenting on her BEM, Vivienne said: "I have been at the RVC for 38 years and involved in research, teaching, health and safety and, more recently, in a more administrative role, but I still like to be outside in the barns teaching horse handling to first years whenever I can. I am proud to have been part of the training of London Fire Brigade firefighters in livestock handling for more than 11 years to hopefully make their interactions with horses and cattle in a rescue situation a little safer."
She added: "I am delighted to have been awarded the BEM in the Diamond Jubilee year and wish to thank everyone who made it possible."