Boehringer Ingelheim Animal Health is celebrating after selling four billion doses of vaccines against Mycoplasma hyopneumoniae, porcine circovirus disease (PCVD) and porcine reproductive and respiratory syndrome (PRRS).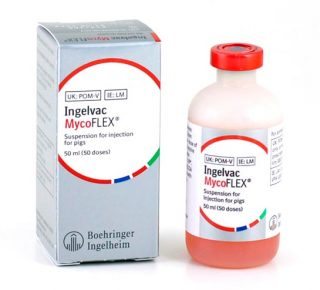 M hyopneumoniae is recognised as a leading cause of respiratory disease in swine and results in lung lesions, increased susceptibility to other respiratory pathogens and has a significant impact on pig health.
Since its launch, one billion doses of Ingelvac MycoFLEX have been sold to control M hyopneumoniae globally, making it one of the leading vaccines in its field, according to Boehringer Ingelheim.
Milestone
The milestone comes months after two other historic events for the company's swine vaccine portfolio.
In 2016, more than two billion pigs were vaccinated against PCVD with Ingelvac CircoFLEX since its launch. In addition, one billion doses of its type two modified live PRRS vaccine have been sold.
Pride in portfolio
George Heidgerken, global head of Boehringer Ingelheim Animal Health, said: "We are proud of our swine vaccine portfolio and the achievement of multiple milestones over the past months."
The swine vaccine Ingelvac MycoFLEX is registered in 58 countries and based on the ImpranFLEX adjuvant platform, which allows for fresh, on-farm mixing with Ingelvac CircoFLEX to form FLEXcombo.
FLEXcombo provides protection against porcine circovirus and M hyopneumoniae without compromising efficacy and safety, with one single shot around weaning, the company said.