Novartis Animal Health is alerting farmers that there is a higher risk of blowfly strike in lambs after ewes have been sheared.
Simon Harris, veterinary advisor for Novartis AnimalHealth, said: "A study by the University of Bristol found that lambs were 4.6 timesmore likely to be struck by blowfly after shearing than the day beforeshearing.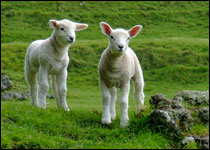 "Shorn ewes are much less susceptible to strikebecause their wool is too short, so the pool of susceptible animals isreduced and the blowflies turn their attack to the lambs."
According to Novartis, blowfly strike remains the main health concern for sheep over the summer, affecting approximately 750,000 sheep in the UK each year on around 80 per cent of farms, and at this time of year the lamb crop can become particularly susceptible.
The health and welfare implications of blowfly strike are well known but it also has a negative impact on lamb growth rates and ewe fertility, due to reduced feed intake in affected animals.
With this in mind, Mr Harris was keen to emphasise that prevention is the key to blowfly control. He said: "Proactive, early treatment with a blowfly preventative is the best way to protect your lamb crop from the risk of strike. The sooner you treat the flock, the less opportunity you allow the blowfly population to build up and, therefore, the less strike you see."
If left unprotected, the number of animals to suffer strike can vary greatly, but studies have shown typical UK strike rates of 6 per cent to 15 per cent.