A crocodile called Cuddles found itself in need of some TLC after being bitten by its mate.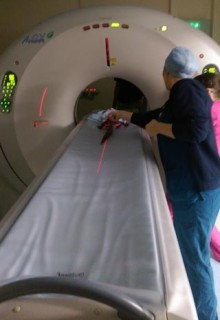 The incident left the poorly juvenile male with a fracture to his left femur.
Exotics vet Dean Felkler from Downland Veterinary Group took his patient to Optivet Referrals in Portsmouth to make use of its outpatient CT service to determine the nature of the fracture and see if the bone had fragmented.
Daunting prospect
The CT showed the full extent of the injury and Cuddles subsequently underwent surgery, from which he is recovering well.
Simon Hester who coordinates the service at Optivet said: "This was the first crocodile to have appeared at the practice.
"It was exciting for all of us, but (we were) somewhat daunted by the fact a juvenile crocodile bite can fracture a femur – it explained the heavy gauntlets and gaffer tape Dean and the owner brought with them.
"Looking to the future, we are advised Cuddles will grow to six feet in length – he will still be able to fit into the CT if a future mishap befalls him."