Following the upgrading of the UK avian flu threat to "high", authorities have confirmed a finding of highly pathogenic avian influenza H5N8 in a wild duck in Llanelli, Carmarthenshire.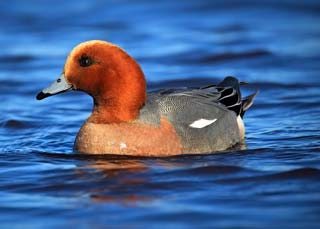 This is the same strain of the disease confirmed at a turkey farm in Lincolnshire on Friday (16 December) and has been reported in wild, captive or domestic birds in many European countries, the Middle East and north Africa.
Found dead
The duck, a wigeon, was found dead and submitted for testing. This morning, it was confirmed it tested positive for the H5N8 strain of the avian influenza virus.
Confirmation of the disease in this wild bird follows the introduction of a prevention zone in Wales on the 6 December, which requires all keepers of poultry and other captive birds to keep their birds indoors, or take appropriate steps to keep them separate, and protect them, from wild birds.
Earlier this week steps were taken to further protect poultry and captive birds by introducing a temporary suspension on gatherings of poultry.
Not unexpected
The cabinet secretary for environment and rural affairs, Lesley Griffiths, said: "The finding of highly pathogenic avian influenza H5N8 in a wild duck in Llanelli follows reports of the disease in Lincolnshire and across Europe. This finding is not unexpected and follows calls for bird keepers to be more vigilant for signs of the disease. It is likely that more cases will be confirmed.
"There have been no reports of human infection from the H5N8 strain and the risk to human health is very low. The Food Standards Agency has also confirmed it is safe to eat poultry meat, such as turkey, goose and chicken."
Wales' CVO Christianne Glossop said: "This finding serves to remind us all of the risk of infection. The prevention zone and temporary suspension on gathering of poultry remain in place. It is also important that bird keepers practice the very highest levels of biosecurity. Even when birds are housed, there remains a risk of infection and keepers of poultry and other captive birds should ensure every effort is made to prevent contact with wild birds. The movement of poultry should be minimised, and clothing and equipment should always be disinfected."
Strengthen understanding
To initially strengthen the understanding of the presence of H5N8, in wild bird populations in a dynamically changing situation, the reporting thresholds for wild bird surveillance has been reduced to a list of the specified species known to be infected in Europe.
Members of the public are encouraged to report dead wild waterfowl (swans, geese or ducks) or gulls, or five or more dead wild birds of other species in the same location, to the APHA helpline on 03459 335577.
Author: ondrejprosicky