Following an intensive week of work, zoo workers carry out procedure on female giant panda Tian Tian after she fails to naturally mate with male Yang Guang.
Workers at Edinburgh Zoo have carried out artificial insemination on its female giant panda Tian Tian after a week of attempting natural mating with mate Yang Guang.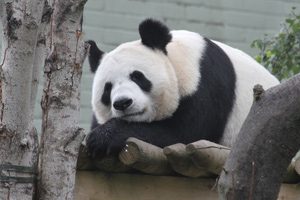 According to the zoo, insemination took place yesterday (Sunday 21, 2013) after Tian Tian "displayed signs that told [Yang Guang] she would not be conducive to mating".
Before yesterday, Edinburgh Zoo had been hopeful that natural mating would occur as Tian Tian showed a "sharp rise" in hormones and enclosure swaps between the two had been promising, with scent marking taking place. Alas, Wang Pengyan from the China Conservation and Research Centre for Giant Pandas in Sichuan, who is working with the zoo on the project, was not convinced natural mating was going to happen.
Yesterday, the zoo said: "Edinburgh Zoo's specialist team and experts from around the world performed artificial insemination on female giant panda Tian Tian in the early hours of this morning. Natural mating was not attempted.
"Yang Guang had been interested and shown consistently encouraging behaviour. However, based on his many years' experience, Prof Wang felt that although Tian Tian had displayed all of the correct behaviours, she had also displayed signs that told him she would not be conducive to mating."
Tian Tian and Yang Guang arrived at Edinburgh from China in December 2011. The two pandas are kept apart all year until breeding season, which normally runs between mid-April and May, and for the past week, zookeepers have been swapping the mammals between enclosures to prepare them for mating. They also failed to mate naturally in 2012.
Edinburgh said both pandas are "doing well" since the procedure.