The call for new rapid diagnostics to stop unnecessary use of antibiotics and tackle superbugs is one of the key issues being addressed at the forthcoming Bioinfect conference.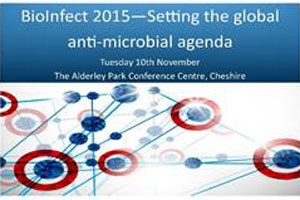 Lord O'Neill, chairman of the Government's review of antimicrobial resistance (AMR), is speaking to policy makers, public health experts and senior executives from the pharma and animal health industries at the one-day conference, taking place at Alderley Park, Cheshire on 10 November.
His review team has just published its fourth paper on how to combat AMR, which claims 25,000 lives a year in the EU and has been likened to climate change and global terrorism in terms of the threat posed to public health.
The O'Neill Review has already warned some 10 million people around the world could die every year by 2050 unless effective action is taken.
Bioinfect will also hear that more refined tests, able to identify the strain of bacterial infection and the antibiotics to which it is resistant or susceptible, will allow more precise prescribing of narrow spectrum antibiotics.
This in turn reduces dependence on broad-spectrum products, slowing the development of resistance and improving the treatment that patients receive.
For more details about the conference, visit www.bionow.co.uk/events/2015bioinfectconference.aspx