A dog that saved nine people and a dog from drowning during a 10-year water rescue career has been awarded the PDSA Order of Merit for outstanding devotion to duty.
Newfoundland Whizz, who died earlier this month aged 12, spent most of his life patrolling the Bristol Channel and the River Severn with the Royal Navy Rescue, the Severn Area Rescue Association and Marine Volunteer Service.
Enriching lives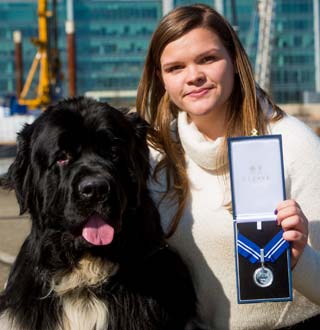 As well as being a water rescuer, working alongside his owner David Pugh, Whizz also enriched the lives of hundreds of people as a fund-raiser and therapy dog.
The Order of Merit – known as the animals' OBE – was presented to Whizz's cousin Tizz, Mr Pugh and handler Ellie Bedford at a ceremony on the quayside of the Dockland Scout Project on the Isle of Dogs, London.
As well as his water rescues, Whizz took part in Newfoundland water rescue days that raised thousands of pounds for charity. Whizz also visited hospitals, nursing homes and hospices, and servicemen injured in the line of duty.
Extraordinary talent
Mr Pugh described Whizz as a "dog in a million" and said: "I am heartbroken he isn't here to receive his medal.
"Whizz loved working and had an extraordinary talent. Not only was he strong and gentle, he was also emotionally intuitive. This made him the perfect rescue and therapy dog and a beloved companion to the hundreds of sick children and adults he met along the way.
"I am thrilled Whizz has been recognised with the PDSA Order of Merit – Tizz has some big shoes to fill."