A long-standing supporter of the Anglican Society for the Welfare of Animals is urgently seeking a home for two vulnerable dogs.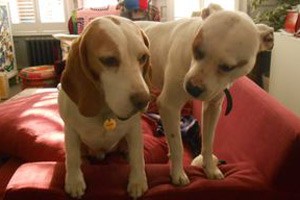 The dogs, a Staffordshire bull terrier and a beagle, must be re-homed together in a private home, with owners who are preferably experienced in caring for needy and sensitive dogs.
Those with time, patience and compassion, who are willing to spend time to make a difference to the dogs' lives, are also welcome to apply to re-home the duo.
The dogs are based in west London but help is being offered with transportation and possibly veterinary fees if required.
More details will be supplied on application. If you think you can help, email the Rev Lynne Chitty at lynnechitty@fsmail.net