Mahmood Al Zarooni banned by British Horseracing Authority after admitting to giving anabolic steroids to 15 horses under his care.  
The president of BEVA is confident no British vet was involved in giving anabolic steroids to the horses in the Godolphin doping scandal.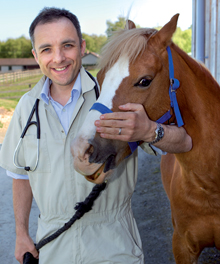 Goldolphin trainer Mahmood Al Zarooni was banned from the sport for eight years after 11 horses tested positive for anabolic steroids at the yard he ran in Newmarket.
Al Zarooni also admitted administering ethylestranol and stanozolol to four other horses in what has been described as the biggest doping scandal in British racing history.
As well as banning Al Zarooni, all 15 horses involved were banned from racing for six months by the British Horseracing Authority (BHA) on April 25, 2013.
Godolphin racing manager Simon Crisford said: "This is a terrible situation. It's an awful situation that Godolphin has found itself in. Mr Al Zarooni acted with awful recklessness and caused tremendous damage, not only to Godolphin and British racing.
"I think it will take a very long time for Godolphin to regain the trust of the British public. We're shocked and completely outraged by the actions he (Al Zarooni) has taken."
During the hearing Al Zarooni named three other men involved in drugging the horses – two foremen and a veterinary assistant. However, BEVA president Keith Chandler believes no British vet played a part in acquiring or administering the steroids.
He said: "We were shocked by this story because these types of medicines are banned for a reason.
"This is partly an equine welfare issue, but the other side of it is that these medicines give the horses an unfair advantage and this falls well below the standard we expect from the British racing industry.
"But what it does show is just how good the British Horseracing Authority is to pick up these positives, especially as we rarely see positives of this type."
Mr Chandler added: "I would be very surprised to discover these medicines had been supplied or administered by a UK vet. These medicines are not routinely used by equine vets in the UK. It would be very unusual for equine vets to have these [ethylestranol and stanozolol] or to be able to get access to these medicines. This is not a medicine used over here, but they must have come from somewhere."