The RSPCA has condemned the growing number of airgun attacks on pets. Every year the RSPCA is overrun with animals that have been shot. Cats are the main victims, but birds and wildlife also suffer.
Hundreds of animals are needlessly suffering as reckless air gun users continue to take pot shots at animals.
Every year, especially during the summer, the RSPCA is overrun with animals who have been victimised in these cruel and callous attacks.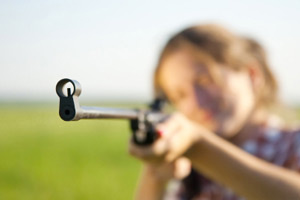 Last year, the RSPCA dealt with 567 complaints, collections and rescues regarding air gun incidents. So far this year, it has already dealt with 165 cases and the charity fears the numbers may soar during the summer months.*
Cats are the most frequent victims of air gun attacks but dogs, birds and wildlife have also been injured in this heartless way.
However, the RSPCA believes many cases go unreported or some owners may never know what has happened to their pet as injured animals usually look for a quiet wooded or sheltered area in which to die.
Therefore, even the high number of incidents the RSPCA does deal with may only be the tip of the iceberg.

RSPCA Harmsworth Hospital director David Grant said: "We're seeing far too many animals being brought in for treatment after they have suffered life-threatening injuries.
"After nearly 43 years as a qualified vet, the severity of injuries inflicted by air guns has increased dramatically. Modern air guns have immense power and the pellets are not being embedded on the surface of the cat, as I used to regularly deal with, but are now passing through the body and smashing bones to smithereens.
"It's distressing to think that people out there think it's acceptable to treat animals in this disgraceful way. Animals, especially well-loved pets, are needlessly dying and it must stop."
From February, owners have been liable for a fine of up to £1,000 if they do not take steps to prevent people under the age of 18 accessing their air gun. Safety leaflets are also now issued with every air gun purchased.
To report an air gun incident, or any other form of animal cruelty, call the RSPCA's 24-hour cruelty and advice line on 0300 1234 999.