A dog that captured the hearts of animal lovers nationwide when CCTV revealed the moment it was abandoned is coming on leaps and bounds, according to the RSPCA.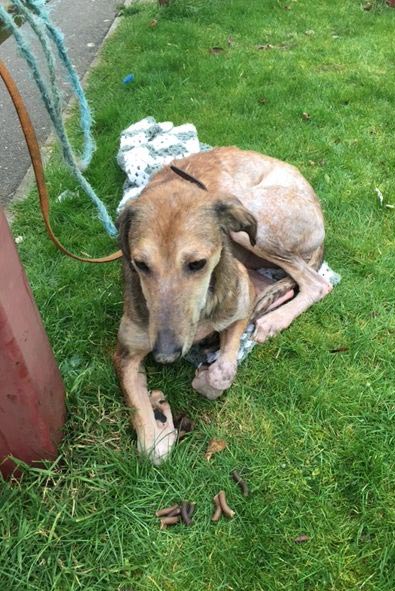 Millions of people watched the footage depicting a lurcher being tied to a fence on Laburnum Grove in Peterborough, Cambridgeshire on 9 February. A resident spotted the dog and alerted the RSPCA.
When inspector Justin Stubbs arrived, the dog – since named Ella – was curled up on the ground shivering. She'd suffered extensive fur loss and her sore pink skin was exposed, leaving her vulnerable to the cold weather.
She was taken to a vet before being moved on to an RSPCA centre.
'Thanks to everyone'
Inspector Stubbs said: "We'd like to thank everyone who shared our appeal for information, or who got in touch to help with the investigation into Ella's abandonment.
"We are now following up on a number of leads and the investigation remains ongoing.
"Meanwhile, Ella is being cared for by staff at one of our animal centres, where she is receiving ongoing treatment for a skin infection, so is not yet available for rehoming.
"When she first arrived in our care, she was very nervous and timid, but is now coming out of her shell. She has bonded well with the staff and absolutely adores other dogs."
New footage
The RSPCA has released video footage of Ella five weeks on to show how well she is doing.
Inspector Stubbs is still appealing for information in relation to the man seen in the CCTV footage abandoning the lurcher before running away.
Anyone with information can telephone the RSPCA's inspector appeal line on 0300 123 8018.