More than 47,500 owners abandoned their dogs in the past 12 months, according to the annual stray dog survey by the charity Dogs Trust.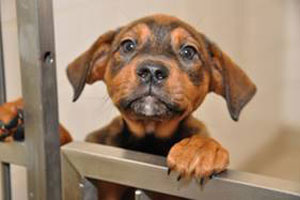 A total of 47,596 dogs were left behind in council pounds, unclaimed by their owners. Of these, 5,142 were euthanised – equating to 14 dogs a day, or one dog every two hours.
Local authorities handled a total of 102,363 stray and abandoned dogs in 2014-15, with more than half claimed by their owners.
The overall figure represents a slight drop on the previous year (110,675), but still equates to 280 strays being found across the UK each day.
Meanwhile, Dogs Trust received 43,771 calls from people trying to give up their dogs in the past 12 months.
Chief executive Adrian Burder said abandoning a dog was "simply unacceptable".
He said: "To learn more than 47,000 unclaimed and unwanted dogs are left in council kennels should shock us as a nation of dog lovers.
"Sadly, Dogs Trust's slogan 'a dog is for life" is as significant as ever – if you are not ready to care for a dog for its entire life, do not commit to becoming a dog owner."
Dogs Trust works with councils to reduce instances of straying by offering subsidised neutering and free microchipping. It praised the efforts of local authority dog wardens and charities, with 54,767 stray dogs reunited with their owners.
The 2015 survey was produced by GfK, which sent questionnaires to all 370 local authorities in England, Wales and Scotland. Of these 319 responded, with an additional 26 authorities in Northern Ireland submitting data. Findings were estimated figures based on the assumption the authorities responding were representative of authorities as a whole.