A pioneering canine charity is celebrating after reaching its 4,000 doggy blood donor.
A pioneering canine blood bank is celebrating after reaching its 4,000th doggy donor.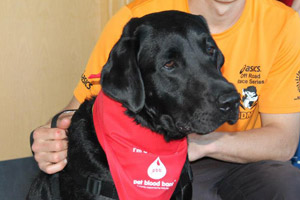 The milestone for Pet Blood Bank UK (PBBUK) was hit by a first-time donor called Shadow, an 18-month-old Labrador who visited Vets Now Referrals in Swindon with his owner Luke Shipway to give blood.
PBBUK head of clinical and professional services Wendy Barnett saId: "We're over the moon that we've reached our 4,000th donor in the aftermath of the Olympics, particularly as Shadow made a great first time donor and his owner, Luke, undertakes a lot of charity work himself."
Mr Shipway added: "I am a donor myself and understand the importance of giving blood, so when I heard about PBBUK, I was keen for Shadow to follow suit.
"I hadn't really considered where blood would come from if Shadow ever needed it, so it was reassuring to know that the unit he gave could help save up to four other dogs' lives.
"Shadow was fantastic during his donation. He also loved the toy he received, and promptly charged around the house as if nothing had happened."