Delegates who participated in the farm stream at the 2016 Association of Veterinary Students (AVS) Congress in Liverpool (myself included) had a visit to a so-called "mega dairy".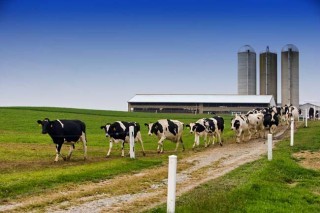 The herd we visited had around 1,000 milkers, which seems large when compared to the UK dairy herd average of 123 (according to AHDB Dairy). Yet, in the grand scheme of things – when considering the real dairy giants in places such as the US with herds ranging up to 30,000 and the proposed 100,000 cow dairy in China – it's questionable as to whether this farm could really even be considered "mega."
Putting numbers aside, the real reason we were taken to the farm was to see how these large-scale, high-intensity dairy production units function.
Preconceptions versus reality
The public shudders at the words "intensive farming" and, as a vet student, I like to think I have a slightly more informed view on what that means. Saying that, I hadn't been to a dairy farm on such a scale as this before and was pleasantly surprised by the forward-thinking approach to every aspect of dairying.
The concept behind many of the methods used on this farm is based on maximising production by reducing stress levels in the dairy cow, thereby minimising any health implications and reduction in yield. This is done by time budgeting by accounting for time she wants to spend feeding, lying down, eating, drinking and socialising. The "leftover" time is used for milking, with management tasks fitted around – i.e. pregnancy diagnosing during her time at the feed face.
Regulation and reduction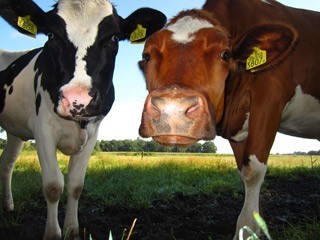 Interestingly, the zero-grazing system allows for the cow to regulate her own feed intake depending on her stage of lactation. The straw-based total mixed ration fed is the same for every cow, and differences in energy requirements rely on the reduction of rumen size during late pregnancy to sufficiently reduce intake. This minimises fat cows during late lactation and drying off.
Digital motility assessing scales are used to pick up any load imbalances, which can then be addressed immediately, opposed to 2-3 weeks later, when the cow would begin to show clinical lameness. There is also emphasis on the milking parlour being a stress-free environment so the cattle can enjoy being there without the need for food bribery.
Efficiency effects
Maximising efficiency is key, not only in terms of the cow, but the unit as a whole. Water used on the farm is recycled five times by using it for drinking water, washing and filtering bedding sand from slurry. This process also allows the sand to be cleaned, dried out and reused for bedding. Large solar panels on the roofs of the open-sided housing sheds provide more than enough electricity for the whole unit, with the surplus being shipped out to the surrounding area.
Research has shown the optimum environmental temperature for a cow is much lower than perceived – this is accounted for by the huge open-sided housing buildings and ventilation system. Each detail seems to have been meticulously considered, with continual monitoring and data analysis taking place to ensure production efficiency is maximal. In the efforts to reduce antimicrobial use within the veterinary profession, the farm's claim to have halved its use, and any veterinary involvement in the last few years, can only be applauded.
Time for change?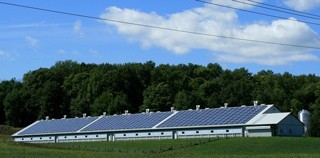 With its huge open sheds, cows bedded on a calculated depth for maximal comfort with access to feed at any time and constant monitoring for early signs of stress or ill health, while not the idealistic picture of a cow moseying around a field at her leisure, was not far off, and certainly not the grim jumped-to conclusion when it comes to intensive farming.
Public perception is always going to be a huge hurdle for farming, but perhaps we can change that through the right sort of publicity, starting with abandoning the phrase 'intensive farming' and all associated misconceptions, and replacing it with something like 'efficient' or 'environmentally friendly' farming, because that is exactly what it is.