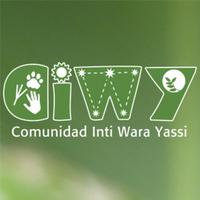 Over the summer, I spent six weeks volunteering for Inti Wara Yassi in Bolivia. The charity was set up in 1992 and now runs three animal sanctuaries throughout this South American country.
The park at which I spent most of my time was Ambue Ari, which is home to over 20 large cats, two species of monkey and a few other exotic species such as tapirs, tejons and many different birds. It was an incredible experience and I would definitely urge other vet students or even qualified vets to get involved in projects like this.
A day in the life of a cat volunteer
Wading through a waist high swamp, being mauled by a swarm of mosquitos, I think to myself, "What an earth am I doing here?" But after 15 minutes and a short trek through the jungle, Carlos' cage comes into view and I remember exactly why. I shout "Hola Carlos" and we meow back and forth to each other until I reach the cage. He brushes up against the metal wire, wanting attention. I stroke him through the cage for a couple of minutes before calling "Vamos!" and making my way to the doors – working with Carlos gives me a chance to practise my (very limited) Spanish.
While I'm making my way around, he races through his cage with excitement before stopping to wait patiently at the door. I unlock the cage and attach a rope to my waistband before entering the second door to get to him. He paces, rubbing up against my legs before sitting and licking my hands. I clip him onto the other end of the rope and open the doors. He tugs at the rope to begin with, leading me along the trail that he wants to do today.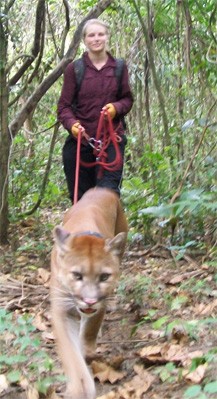 I watch out for his every move, prepared to burst into a sprint when he leaps over a log or to unclip his rope when he ducks under a branch to low for me to follow him. He tries to stalk something in the bushes. I can't see what it is, so I stop him pouncing – trying to strike a balance between letting him be a puma and keeping him from unseen dangers such as snakes.
As the day heats up, he stops to lie down and sleep a while. This is when my war against the mozzies really starts. Sitting still, I have little choice but to watch their ceaseless assaults on my skin, despite my sweating under numerous layers of clothing.
After a time, Carlos appears to have rested enough and continue on his trail. The rough ground and natural obstacles result in the rope getting caught between his back legs. "Step over your rope," I call out (apparently pumas are bilingual) and, after a couple of attempts, he's free to walk normally again. I congratulate him: "Muy bien".
After a few hours of walking, we return to the cage and he utters a deep purr, craving more attention before I say goodbye. I give him a few minutes of fuss before looping his rope around a nearby tree and entering his cage to clean his feeding platform and sleeping area. Leaving his meat on the platform, I return to him, careful to watch for signs that he might pounce while I unclip his rope from the tree. When I do, he tugs towards the cage and we both go through the first of the double doors. I unclip him from the rope and open the second door. He runs towards the platform, leaps onto it, grabs the meat in his jaws and darts into the bushes to eat in peace.
Turning away, I lock the cage behind me and start the return journey through the swamp, not forgetting to call out "Chao" as I leave.